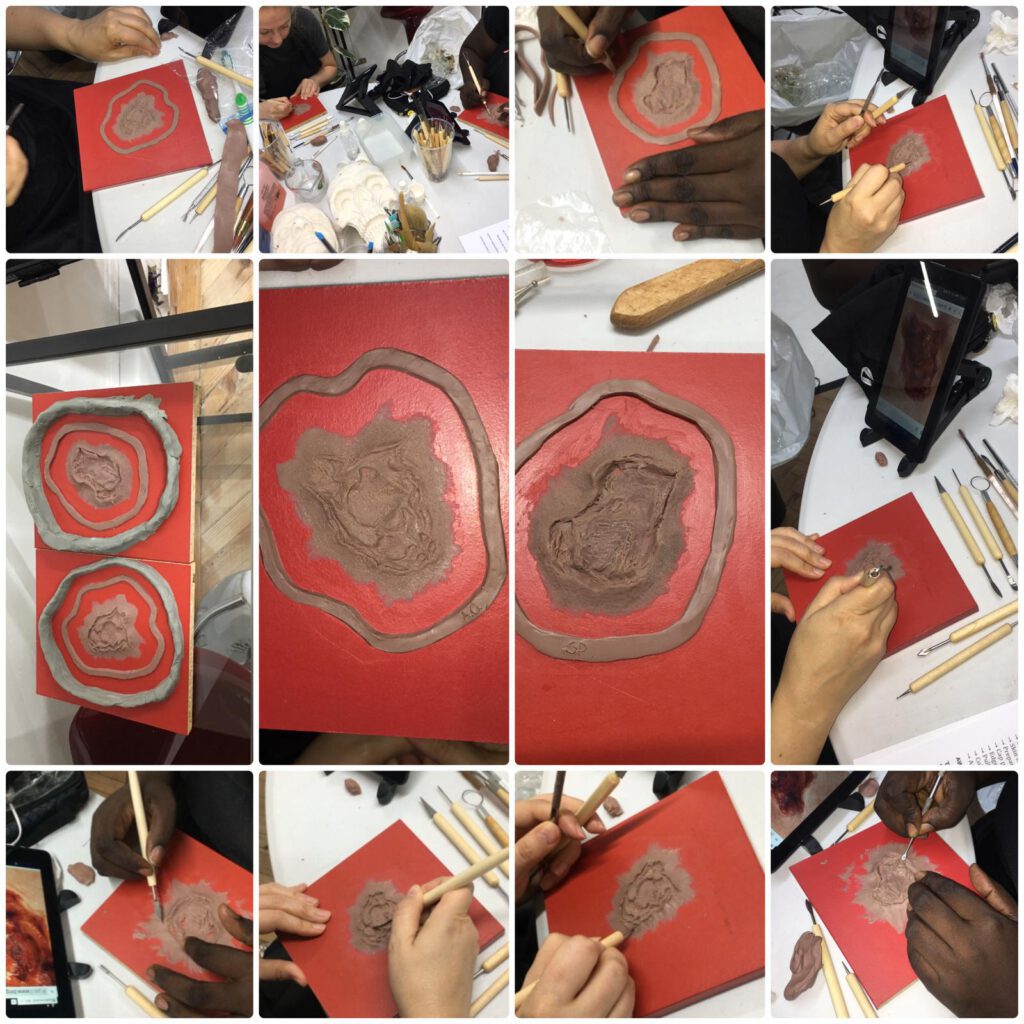 Perfect for Beginners, our Prosthetic Flat Moulding for Beginners Course delivers intensive training to learn the basics of creating and sculpting your first prosthetic piece.
Seventa Makeup Academy delivers the most current and essential skills required to work in the SFX Makeup Industry.
|| All equipment and products you need are supplied on this course and are yours to keep || Access to tutors and industry professionals through our mentoring program || Maximised Learning 1-to-1 Personalised Course or Small Group Classes Sizes || Join our Award-Winning Makeup School in London || Courses taught by Industry and Award-Winning Experts ||
5 out of 5 stars (based on 38 reviews)
This course is offered over 4 Evening Sessions or over 2 Day Sessions and offers specialised SFX makeup artistry training through personalised 1-on-1 sessions, maximising your learning experience.
This course is also offered in small groups of up to 6 students a few times a year. Check the course enrolment section down below for start dates of our small group class sessions.
INVESTMENT:
£887 GBP Personalised 1-on-1 session / Live Remote
or
£597 GBP Small group sessions
This course is ideal for anyone who would like to learn the most fundamental aspects of creating and sculpting your own prosthetic pieces. Get confident with product knowledge and how to safely apply and remove pieces from your clients and models. Learn the basics of anatomy and colour theory to create truly camera-ready prosthetics.
This course provides students with the essential standards and skills required for casualty SFX work in the Theatre, Film or TV Production.
No previous experience necessary, this course works for students new to the makeup world and to current artists alike. However, you may wish to consider doing the Introduction to SFX Makeup Course also.
This course is taught by industry experts to give you the best insight and practices of the techniques currently being used in top FX workshops.
After completing an SFX Makeup Course at Seventa Makeup Academy you will continue to have access to tutors and industry professionals through our mentoring program.
The program is a perfect way to gain valuable experience with leading professionals in the industry through educational workshops, information from their extensive online library, plus both volunteer and paid work opportunities, not just locally but globally.
This course will teach you how to sculpt a realistic wound using clay. Having sculpted the wound, you will be taught how to create the mould and pull, paint and apply your first prosthetic piece.
You will be using industry-approved materials such as Monster Clay, Addition Cured Silone, Silicone pigments to mention but a few.
You will also be taught the most current hygiene and health & safety standards.
Your progress will be recorded via images/video and together with your Diploma Certificate, you will receive a collection of resources and all the images/video taken throughout the course.
Overview:
→ Introduction to the SFX specialist kit and products
→ Health, safety and hygiene
→ Research techniques
→ Anatomy, texture, examples and usage
→ Creating your first sculpt
→ Skin tones
→ Preparing the mould
→ Cap plastic
→ Edges
→ Pulling your first prosthetic piece from the mould
→ Colouring
→ Application and removal
The Prosthetic Flat Moulding for Beginners Course awards participants with a Seventa Makeup Academy Diploma Certificate which is fully insurable and allows students to apply professional makeup on private clients for any occasion.
Professional SFX Kit & Tools Included: At Seventa Makeup Academy all products and tools you will need for the course are provided in a kit we have developed for you to use during your course. You also get to keep the kit and tools, so you can continue to practice when your course has ended. Only professional brands are used.
Discounts of 5% are offered on courses when booking additional future courses and a bigger discount of 10% is available when booking 2 or more courses together.
Students are also automatically registered on our Professional Makeup Artist Discount Program for 30% off the Ten Image Professional product range.
PROPOSED COURSE SCHEDULE FOR SMALL GROUP SESSIONS ONLY
⇐ View All Dates On Mobile By Swiping ⇒
SMALL GROUP SESSIONS
EVENING SESSIONS
| EVENING 1 | EVENING 2 | EVENING 3 | EVENING 4 |
| --- | --- | --- | --- |
| CONTACT FOR DATES | CONTACT FOR DATES | CONTACT FOR DATES | CONTACT FOR DATES |
DAY SESSIONS
| DAY 1 | DAY 2 |
| --- | --- |
| CONTACT FOR DATES | CONTACT FOR DATES |
Our cancellation policy applies to all courses. Once paid your course will be confirmed and no refunds can be issued. A change of dates may be requested by you with 4 weeks (Professional Courses) or more notice.
For courses where only a deposit (20% of the course fee) has been paid and you cancel (not change dates), the deposit is forfeited and is non-refundable.
Placement on a course or courses is subject to availability and we have the right to cancel or make changes to course dates without notice.
Most courses (refer to individual course pages) require a minimum of 2 students to be enrolled or the course may be rescheduled. Alternatively, students have the option to upgrade their course to a 1 to 1 Personalised Course (where available), with direct 1 to 1 attention with the tutor to proceed with the scheduled course dates.
For more details please visit the FAQ Page